CUSTOM JEWELRY: THE BVW WAY
Our store was created with custom design in mind. With our expertise and artistry, we endeavor to create something that you will truly love. Unlike most stores, our entire custom design process is completed in-house, and we always have our experienced staff available to answer any questions you may have.
Our designers believe that the sky is the limit when creating your jewelry. Britten is a HUGE fan of saying "If you want kittens and dolphins on your ring, I'll make it". With this in mind, our staff have the ability to source any diamond or gemstone you can imagine. This includes 100% ECO friendly options. We also love being able to recycle your old gold or remake your heirloom jewelry. BVW Jewelers cutting-edge custom design facility allows us to keep our creations budget friendly for our customers. That, combined with our willingness to reuse materials from your heirloom pieces, makes your one-of-a-kind less expensive than purchasing a mass-produced designer piece.
ONE-OF-A-KIND ENGAGEMENT RING DESIGNS
BVW Jewelers strives to create unique and special pieces for each individual customer. Whether you are interested in a custom engagement ring, wedding band, earrings, necklace or something completely unusual, our designers will help you step by step to create something completely YOU. Here at BVW Jewelers we are proud to say we have the most extensive 3D design stations in Northern Nevada. That, combined with using two CAD programs and lost wax casting techniques, allows our staff to create unique pieces while keeping it affordable for our customers.
In order to ensure our jewelry is made with top quality standards, BVW Jewelers employs highly trained designers and three master jewelers, all working together to provide you with the best customer experience throughout your custom design process.
Our Process
TRADITIONAL ENGAGEMENT RING DESIGN TECHNIQUES
"Additionally, there are times when cutting a design in wax by hand will give the best results. With 20 years in "Lost-Wax Casting", I can creatively cut your designs by hand using one of the oldest jewelry making techniques used today. Once you have approved the design we use a 3D prototyping machine to literally mill or grow the wax model. Your design is then checked for quality and accuracy before the final piece of jewelry is cast in gold, silver or other precious metal then finished stones like diamonds are set if desired!"
-Owner, Britten Wolf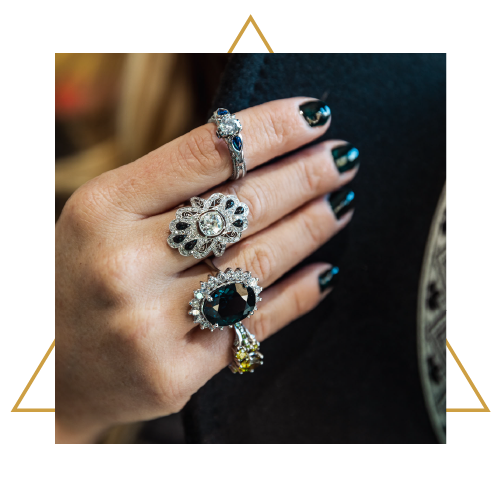 CUSTOM ENGAGEMENT RINGS, HOW WE DO IT?
We use high-tech modeling software to virtually create your engagement ring design. Computer-Aided Design (CAD) software can greatly enhance the precision of the finished product and gives you the ability to see your design even before the wax model is made. Now, we can make adjustments to get your new engagement ring looking exactly the way you want it, even before it is even made.
BVW Jewelers, Jewelry Design
Designing with you in Mind. Custom Design, unique engagement rings and diamonds from every size!